"The love for all living creatures is the most noble attribute of man."-Charles 
Darwin
Our Mission Statement
Fairy Tails is dedicated to providing assistance to people with animals in need of shelter and care as well as in education for the humane and responsible keeping of pets.
All of Fairy Tails Adoptees:
Have had comprehensive health care
Live cage free
Are child friendly and cat compatible
Donna Halpern, founder of Fairy Tails Adoptions, has dedicated her life to the rescue of animals and educating school children on the humane treatment of animals (please inquire about school visits). With your help and generous donations, she is able to nurture as many animals as possible. Sadly, Donna is unable to accept kittens at this time. Kittens, however, are still available for adoption.
If you would like more information about our adoptable animals you may text Donna between 9am-9pm at (305)596-9694

Featured Pet of the Month
                              Thumper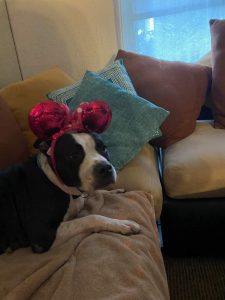 Thumper estimated to be 18 month (as of Sept. 2020) Staffordshire Bull Terrier. Super sweet and playful. Thumper was found in March and no one claimed her. Thumper is very protective of her person she chooses. She gets extremely upset if that chosen person is not close to her (like in the pool). Thumper is great with children. LOVES to ride in the car too. Thumper does NOT like other dogs.